On the UC Santa Barbara campus, Peer Educators are students advocating and promoting positive behaviors and providing accurate information through affiliations with campus and community programs and services. Peer Educators assist the student body and administration in creating a safer and healthier campus community.
The UCSB Student Health Alcohol and Drug Program supervises several peer education internships; Gauchos For Recovery (GFR), Life Of The Party (LOTP), and InterCollegiate Athletics (ICA) peers.
For general information about our Peer Education opportunities, contact (805) 893-5013 or email us at adp@sa.ucsb.edu
Gauchos for Recovery
Image
 
The mission of Gauchos for Recovery is to provide a safe, supportive, and engaging environment for students in recovery from addiction to substances and addictive behaviors. Additionally, we support students who have been directly or indirectly affected by the substance use of friends or loved ones. We also seek to reduce stigma around substance use disorders and create a recovery-informed campus community.
Life of the Party
Image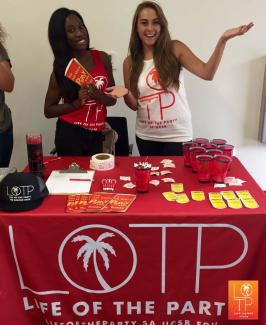 LIFE OF THE PARTY is a UCSB Student Health, student run organization that advocates for safe partying and hosts alternative events to ensure a safe and healthy community. LIFE OF THE PARTY actively encourages students to recognize the warning signs of drug or alcohol overdose and to take care of themselves, their friends and their community.

 
Paid Internship Opportunities
The Alcohol and Drug Program; under the auspices of Student Health Services, offers a variety of volunteer and paid internship experiences for UCSB Students. Volunteers and Interns help with education and outreach efforts on the UCSB campus as well as in the Isla Vista community.  ADP interns work an average of 8-10 hours per week.  All majors and class levels are encouraged to apply.  Recruitment for the following positions occurs during Spring Quarter of the academic year prior to starting the internship.  For more information please contact our office.
 
Applications for positions are available via Handshake during Spring Quarter.  
Life of the Party Peer Leaders have the opportunity to develop and implement various alcohol and other drug prevention campaigns targeting both the UCSB and Isla Vista communities. This leadership position involves working with student committees to conduct field research about student opinion, create campaign materials, and develop effective strategies to disseminate the campaign messages. Peer Leaders will help with print (brochure, newspaper articles, press releases) and online promotion (social media, email marketing). In addition, interns will be trained as Peer Facilitators and will provide educational presentations for various student groups on campus as requested. The LOTP internship requires at least one full school year commitment September - June and optional summer opportunities.
Life of the Party interns help with daily administrative tasks around the ADP office and Student Health Services and provide front desk support. They serve as liaisons to other ADP Peer Educators, campus partners, and the greater Santa Barbara community and assist with marketing efforts by developing materials and online presence. Qualified applicants will demonstrate the ability to distribute ADP information to students, compile reports, as well as answer questions about ADP services in the ADP office and around campus.
The Recovery Peer Internship will provide an opportunity for a UCSB student in recovery from substance use and a student supporting those in recovery (ally) to provide mentoring to other students in recovery, and to work with Alcohol & Drug Program (ADP) Staff to further develop a comprehensive program for recovering students. Recovery Peer Interns will have the opportunity to serve the UCSB recovering community and help to develop a program that will have lasting impact. The position will also provide interns with skills in marketing and outreach, program development, qualitative research, and basic counseling health promotion skills. Gauchos For Recovery