Image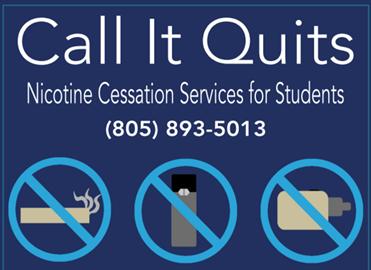 70% of smokers want to quit...
 Are you one of them?
Quitting or cutting back on nicotine can be very difficult and stressful especially without support... We can help you!
We will help you make a plan and stay motivated in your efforts to quit nicotine use.
The Alcohol & Drug Program, offers FREE nicotine cessation services to all UCSB students!
Call it Quits can provide FREE nicotine patches, gum, or lozenges.
Studies have shown that pairing the patch, gum or lozenge with a program like Call it Quits can double your chances of successfully quitting.